Virginia Tech Kentland Farms has been one of NRV Rocketry's main launch sites since our first launches in 2011 and is located a few miles out on the outskirts of Blacksburg farmland, near the New River, around 1hr south of Roanoke and 20 miles east of West Virginia.
Thanks to the generous sharing nature of the VT Agg department, VT Aerospace and other interested parties, we have been able to hold everything from small monthly launches to large scale, 200 flight, 300+ person educational STEM outreach events at Kentland Farms. We've even hosted special STEM launch events such as Homer Hickam's visit to NRVR in 2014.
Safety! Safety! Safety!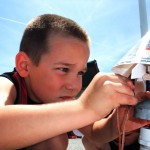 Safety is always our top priority, and as such NFPA/TRA required safety distances, boundaries, spectator and parking areas will always be clearly marked and strictly enforced by our Range Safety Officer and all NRVR Members.
Launches at Kentland Farms:
The property usually carries a 10,000ft AGL FAA high power flight waiver, but due to near by tree lines and the aforementioned river, we try to keep most flights under 4-5,000ft, with special exceptions for call aheads and RSO approvals for up to 6,000.
NOTE: Kentland Farms is Virginia Tech state property and is only open for sanctioned NRVR launches and other university related business. The farms are not open to the general public for park-type or ad hoc use without state staff approval and oversight. Violations of unsanctioned use will be reported.

Launch Site Accommodations:
We can readily accommodate all model, medium power, high power flights up through I, J & some K impulse, please contact the RSO(at)nrvr.org about your flight or officers(at)nrvr.org to discuss specific large  L and M launch needs.
We will most always have at least one to two low power/model pads equipped with 1/8″ and 3/16″ rods, a separate 1/4″ thru 1/2″ rod pad for medium, and 1-2 1010 rails that can handle up through 20lb rockets.  Anything over 20lbs or requiring our 1515 rail setup, again, please contact RSO(at)nrvr.org to check for field setup availability.
NEW! Mini-Micro Rail Guides! Rail guides for these can be found at http://rail-buttons.com/minimicro.html .  We have a limited supply on hand for anyone wanting to try these new launch guide options.
All attendees are welcome to bring chairs, canopies, food, drink and pets.  We now have access to the permanent, men & women's bathroom facilities on site.
Finding Kentland Farms:
The address of Kentland Farms is 5278 Whitethorne Rd Blacksburg, VA 24060. out Prices Fork just a few miles from Hwy 460.  Depending on the time of year and the VT crops, the actual launch site on the farm does change with the crops and seasons but is often somewhere near GPS coordinates 37.198236,-80.582786 .
Local Hotel & Camping Accommodations:
There are a number of econo and nice hotels and even camping all within 10 miles of the field. A few that we can vouch for are:
Any related questions, please contact us at officers(at)nrvr.org.
---
| | |
| --- | --- |
| NRV Rocketry Hosted By | NRV Rocketry Gold Sponsor |
| | |